Memphis Showing Signs of Economic Growth:
Filed under: Economy,Memphis,News — admin January 24, 2013@ 6:14 pm
According to local financial and economic information gathered by the Federal Reserve Bank the economic climate is improving in Memphis, Tennessee. In its Beige Book report for the Eighth Federal Reserve District, which is headquartered in St. Louis, Missouri and includes all of Arkansas, as well as portions of Indiana, Illinois, Kentucky, Mississippi and Tennessee, it cites a steadily improving housing market and increased retail numbers as indicative of the positive upward trend.
Historically, a hardwood and cotton trading center, with some 40 percent of the nation's cotton crop still traded in Memphis and being home to three of the world's largest cotton dealers, Memphis has a broad economic base and continues to diverse employment and investment opportunities. Banking and finance, nonprofit entities, manufacturing and science and technology industries are all well represented in the region. The city is also considered a major mid-South retail center and a thriving tourist destination.
While home sales and building permits increased, the commercial and industrial real estate sectors remained stable. The Beige Book report also highlighted ongoing health care construction projects in the downtown medical district, including Le Bonheur Children's Hospital's completion of is 255-bed tower on Poplar Avenue, Methodist Le Bonheur Healthcare's $33.5 million emergency department expansion at its Methodist University Hospital site, Southwest Tennessee Community College's 74,000-square-feet Nursing, Natural Sciences and Biotechnology Building, and the final phase of construction of the $23 million UT-Bioworks Research Park's 26,000-square-feet Union Avenue laboratory.
Tennessee Governor Bill Haslam also evidenced economic growth when he announced plans by New Breed Logistics for a $23 million expansion that will bring 468 new warehouse and distribution jobs to Memphis. The company, which distributes diverse consumer products and manufacturing components, started operations in Memphis in 2001 and currently employs 1,775 people in the city, will expand its existing facility on Citation Drive and lease a further facility on Quality Drive. Joe Hauck, vice president of sales, marketing and communications for New Breed said that the company's growth had been phenomenal and that "Memphis is a great market for us. A lot of our clients want to be there."
Comments Off
Wind power coming to Memphis:
Filed under: Memphis,News — admin November 14, 2012@ 6:29 pm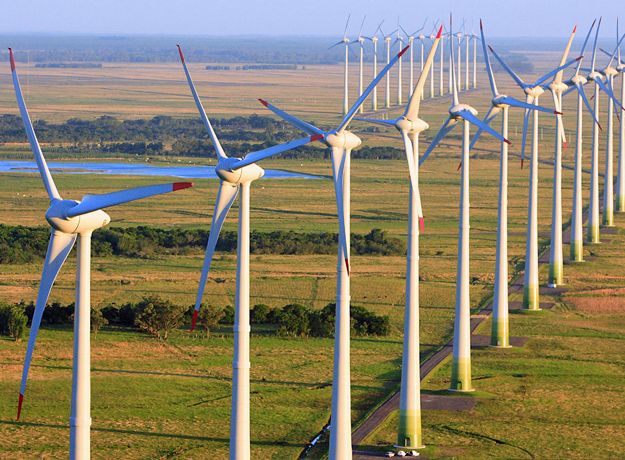 Clean Line Energy's Proposal to Bring Wind Power to Memphis
The Federal Energy Regulatory Commission has given its initial approval to Clean Line Energy's plan to build a transmission line connecting the Great Plains and the Tennessee Valley Authority just outside of Memphis in Shelby County. This ruling gives Clean Line Energy the permission to begin negotiations with potential buyers and to schedule public meetings in the affected areas to discuss the proposed plan with locals. Once complete, Clean Line Energy intends to send 3,500 megawatts produced using wind turbines located in the Great Plains coursing through the 750 miles of transmission line into the Tennessee Valley Authority's system.
Tennessee Valley Authority's Decision
Clean Line Energy has stated that the success of its proposed plan depends on the Tennessee Valley Authority's decision to purchase the 3,500 megawatts of wind power or not. Its transmission line is intended to connect to the electrical system of the Tennessee Valley Authority, which in turn supplies power to the Memphis Light, Gas, and Water Division plus more than 150 utilities across the state. However, the Tennessee Valley Authority has a stated policy of only purchasing power at prices competitive with established sources such as nuclear and fossil fuels. It has already committed to 1,500 megawatts in wind power from other sources, but its purchasing decision regarding this particular source of wind power is pending its evaluation process.
Similarly, the Memphis Light, Gas, and Water Division is also looking into the effects and consequences of Clean Line Energy's proposed plan. It is concerned that its aging facilities might need an expensive upgrade to be able to handle the proposed transmission line. Glen Thomas, a spokesman for the Memphis Light, Gas, and Water Division has stated that Clean Line Energy would have to be responsible for covering the cost of those upgrades.
Delivered Cost and the Question of Reliability
Although there are minor differences in the exact definition of the concept from industry to industry, the delivered cost is the cost of bringing a product to the point of actual use. For example, the concept of delivered cost in relation to wind power means the sum of the stated price paid for wind power, the transportation costs, insurance charges, taxes, and any other costs associated with sending the wind power through the transmission line.
The Tennessee Valley Authority is concerned about the delivered cost of this wind power because wind power has picked up a perhaps undeserved reputation for being more expensive than other sources of power. It acknowledges that the price paid for wind power has fallen in recent years due to technological advances made in that field, but also points out that the price paid for power generated using natural gas has fallen even further. Still, Clean Line Energy's proposed plan does possess one decided advantage in that its proposed transmission line is high-voltage direct current rather than alternate current, meaning that the power sent encounters less resistance during long-distance transmission. As a result, the cost of transporting that power is less than alternate current transmission because less power is lost during the process.
Furthermore, the Tennessee Valley Authority has also claimed that it is concerned about the reliability of wind power. It fears that consumers will lose access to wind power if the wind
Comments Off
Build A Great Estate With Real Estate:
Filed under: Real Estate — admin November 7, 2012@ 4:34 pm
"The journey of a thousand miles begins with a single step."
Building great wealth is certainly not easy, but it's not incredibly complicated either. It does require two main elements: a solid financial vehicle and a genuine desire. To build a great estate with real estate, that outcome must be identified as the destination and determination for it must remain present along the way. The rest, as they say, then becomes history.
All things considered, buying and holding income producing investment properties represents the best and most likely means to building a great estate without the need for significant risk taking. Income producing real estate varies from other vehicles due to its ability to provide relatively predictable results. Investment properties provide the opportunity to create long range objectives and (when diligent and patient) be quite certain that you'll accomplish your goals. It's difficult to make the case that most other vehicles (stock market, business, CD's, collectibles, funds, etc.) offer a similar likelihood of success that real estate investing does. It's a fundamental thought but important to remember the distinctions between investing, speculation and gambling and which category various investments fall under.
Some related thoughts…
Challenges do arise from time to time and having a healthy mindset when confronted with the occasional negative situation will be of great assistance. Developing a deep appreciation for the long term opportunity that real estate offers to investors and their families is a great place to begin the formation of a positive and balanced attitude towards it. If we want to enjoy a rainbow, we have to accept a little bit of rain once in a while. In the long run, the highs greatly exceed the lows. Enthusiasm makes any dips easier to endure.
Many people are afraid of the unknown. Fear is easily overcome by becoming highly knowledgeable which comes from making the conscious decision and taking the action of seeking additional education at every opportunity. Even if investing in real estate isn't your primary source of income (yet), resolve to become the "A" student. The more you learn, the more you'll earn and the quicker your estate can (and will) grow.
Income properties including homes, apartments and condos are the best targets for the average investor; the most stable usually being single family residences. The least expensive property in the best location is almost always the best choice.
Profit is made at the time when an investor buys so waiting for and identifying very good deals is paramount. And they are available. Purchasing properties that are 30-40% (or more) under perceived market value which require renovations in quality neighborhoods is an important component of a great estate strategy. Even after the expenses of upgrades and repairs are factored in, the investor still becomes an immediate recipient of built-in equity. And that's just the beginning of profit making. As mortgages are paid down over time and property value simultaneously appreciates (likely), equity begins to expand in two directions (loan balance down, value of home up).
Consider this:
Successfully investing in real estate requires a long term outlook and plan. Let's say your strategy is to purchase one income producing property per year for twenty years. In fifteen years the property you purchase now will be fully paid off. The second property you purchased will have only one year remaining on its fifteen year mortgage, the third will only have two years left and so on. Throughout the entire time you'd been collecting rent checks from tenants while the equity of each property has expanded. Whether your objectives are to create a source of retirement income for yourself, an estate to leave to your kids or wealth for its own sake, a well planned and disciplined strategy such as this is what ultimately delivers achievement of the goals.
The investor's objectives must be clear and accompanied by healthy levels of determination and discipline. Manage your investments as you would manage a business. Like most things which deliver high value and positive outcomes, building a great estate with real estate is a marathon. Journeys are completed after taking all necessary steps in the correct direction. Postponement or not taking the steps at all is often the greatest risk of all.
When money is put in the right place it grows. The way to build a great estate with real estate is by becoming informed and then taking the right actions over the long term. It's really not overly difficult or complex and it's certainly going to be worth it…
Happy Great Estate Building!!
ABOUT OCG Properties: Founded by Mathew Owens, our mission is to help clients attain financial freedom by providing sound real estate investment opportunities, support and education while utilizing our expertise to improve communities worldwide.
Comments Off
The Story of Bob and John:
Filed under: Real Estate — admin October 29, 2012@ 12:56 pm
Once upon a time there were two friends, Bob and John, who were partners in business together….
Bob and John had been working together for quite a long time and felt as though they were doing pretty well for themselves. Their company always seemed like it was on the verge of taking off. They leased a building, had a number of good customers, five employees, two company vehicles and very big dreams. Though they worked extremely hard with very little time off, in their minds they were in the process of creating something very real and substantial. It seemed that they were going to get "there" one day and when they did the remainder of their lives would become easier. Their determination and perseverance would pay off and they then wouldn't have to work so hard.
Things continued in virtually this same way for many years but along the way, Bob and John began to notice, at various places and times, what they began referring to as "certain kinds of people." Some of these "certain kinds of people" that they'd encounter were customers of theirs. They'd met a couple of them at one of their kid's birthday parties. Others they'd meet at dinners with friends. They even met one in a jacuzzi at a resort hotel. And while these "certain kinds of people" wandered into their lives randomly, an easy to notice pattern was always evident.
Upon examination, and almost strangely, these "certain kinds of people" always had three very same things in common:
A lot of time on their hands
An awful lot of money
A lot of property
And, being similar to each other as they were, these "certain kinds of people" also always seemed to repeat (often) these identical words to Bob and John. Like members of some exclusive club might chant, they'd say:
"Boys, go out and buy some property! Please just one. Just buy ONE for Gawd's sake."
So, after many years of hearing this same advice many times over, the boys finally called a real estate agent and said the six magic words:
"We want to buy a property."
The real estate agent, being accommodating as agents tend to be, arranged for a viewing of a property he'd known about for a long time which he wasn't able to sell; perhaps partly because it was painted a very bright yellow, much like a lemon.
The big yellow lemon with windows, doors, walls and a roof had been foreclosed upon, was now owned by a bank, unlived in and pretty much a wreck. It was the house that was in the worst condition in an otherwise good neighborhood. You know the one….
Unfazed, the boys were determined and decided to act on the advice they'd been receiving for so long. They bought the yellow eyesore. The agent couldn't believe his good fortune that the boys magically appeared into his life. And as it turned out, Bob and John got a great deal too because they did some very smart things.
The boys fixed up the big yellow lemon. They not only painted it, they also made a number of other renovations, repaired the flooring, installed some new appliances and added landscaping. The house is still yellow but it's not a lemon any longer. They gave it new life and brought it back to what it was born to do: be a home for people. They then found some nice, reliable tenants and rented their (now) masterpiece.
About two years after they'd purchased and renovated the home, our boys realized that between the built in (and growing) equity, tenant rents and appreciation of the value of the home itself equaled about half of the annual profit their entire business generated.
Even with a company, customers, employees, vans, other equipment, (too) many late nights and weekends working and other heroic feats of work, how could one yellow lemon produce such income by itself; without much effort, in just a couple of years?
"Hmmmmm, this property investing might be 'A good thing' after all."
So John, always handy with the calculator, comprehended that if you buy income properties at more than 20% under the perceived market value, perform the appropriate repairs, renovations and some cosmetic touching up you could then assume the equity (which expands over time) and perpetually collect rents… And you could multiply this just by repeating the same model.
So John was assigned to purchase more properties and Bob was given the rewarding job of finding a buyer for their company, the vans and the other equipment. This also meant that the incredible hours, worries and other headaches they'd been enduring would be moving on too.
Two new and very different (better) type lives were now formed. With additional experience, the boys caught on even more as they learned. They merely began replicating the same process again and again and again, until, after just ten years they owned properties worth millions of dollars that were producing never ending streams of income. They'd discovered and transitioned to a very different and new dream for themselves.
And that's how Bob and John became "certain kinds of people" too…
ABOUT OCG Properties: We specialize in helping our clients purchase investment properties that provide a positive monthly cash flow after all expenses are paid (mortgage payment, property taxes, insurance, vacancy, repairs and management fees). Our goal is to provide our clients with enough passive cash flow to cover all of their expenses and replace their day job.
Comments Off
The Great (REO) Opportunity:
Filed under: Real Estate,Real Estate Investment — admin October 3, 2012@ 5:22 pm
Sometimes we forget that banks are businesses much like other companies. And there are times when they make mistakes, just like other companies do at times. And (as we know) collectively the banks made some incredible lending practice mistakes (doozies) during the not too distant past…
Though hard to fathom now, the lending errors the banks made enabled a buying and building surplus which at the same time was fueling the expansion of a real estate property value bubble. And these exaggerated valuations, being both artificial and temporary, caused the bubble to eventually burst.
This painful period of history also evolved into another problem of a different form for the banks. The effects of their own poor lending habits over this time left them with an incredible number of nonperforming loans, properties foreclosed upon and even abandoned on the books. Collectively banks became owners of millions of homes themselves.
Naturally, banks are in business to lend money to people for homes. Their business model, competency and desire doesn't include owning the homes themselves. Seizing, managing and reselling real estate properties to recover unpaid loan balances was never intended to be part of their line of services; at least not intentionally.
Combined, these factors have encouraged the banks to become very motivated and flexible sellers. They're anxious to return once again to their normal lines of business. Hence, the great REO (Real Estate Owned) opportunity for real estate investors was revitalized.…
___
Actually it's more than merely an opportunity. It is that and it's part of the overall solution. Vacant homes don't serve much purpose for anyone. Without life in and around them the condition of homes deteriorates, negatively affects the value of other properties nearby and can even present danger. People should be living in homes, maintaining them and helping them to become positive contributors to well kept neighborhoods. These homes need to find their way into hands of people who know what to do with them, who can create a "win-win" from a dilemma.
The win-win in this case is in the form of an investment opportunity for those with access to capital; whether that's in the form of cash or an ability to acquire loans. The home is purchased from the bank at a highly discounted rate (50-70% of market value), renovated and subsequently rented to tenants. Because all of the associated costs, including closing fees, still allow the investment amount to remain well below the true value of the property, a built-in equity is realized immediately. The rents represent a positive cash flow for the investor and appreciation of the value of the property over time is probable.
So the investor gains (equity, positive cash flow, likely appreciation), the tenant has a nice home to live in, neighborhoods improve and even the local economies benefit from the business of renovating the homes. It's a wonderful win-win solution to a very serious and, for many, an unsettling and life altering experience.
And because the banks are anxious to get back to business as (was) usual, they're willing participants. They were a large part of the problem and they've become a significant part of the solution. It only seems fair…
ABOUT OCG Properties: Based in Redondo Beach, CA and founded by Mathew Owens, we're real estate investors who help others become investors too.
Comments Off
A Better Perspective About Money:
Filed under: Real Estate Investment — admin September 25, 2012@ 5:48 pm
"Having fewer nuts does not make us better squirrels…"
Given our druthers, most of us would choose to be financially independent, comfortable and free of worry about money. Most still have that choice. It's not too late, but a shift may need to occur…
Though it's always been available to most, it seems odd that only 5% of our population is able to achieve and sustain the distinction of being financially free during their lifetimes. Why is that the case? How is it possible that only 5% receive membership to this group?  Why are the other 95% of us unable to accomplish something which is so vitally important and has such a significant impact on our lives?
The answers seem to arrive after inspection of varying perspectives….
As we know, there's an element of discipline around money that's missing for many people. For them, bad habits just seem to take control and then repeat themselves when it comes to this subject. It's a spender's mentality and perpetually exceeding our means is a vicious trap.
Certainly, expensive material things, vacations and other enjoyment based targets for our money bring immediate gratification for many. These items create a sense of enjoyment for a time, at least until the other cost to be paid in addition to what was on the price tag comes due. That second bill to be paid is the eventual suffering which comes in the form of concern, worry and stress. So we truly end up paying twice. And both forms of payment can linger for the very long term.
When unintelligent behavior around money becomes habit, there's a tendency to generate unmanageable debt. Once that occurs, thoughts of sound financial planning and execution become so routinely postponed that, over time, they're not even a consideration anymore; no longer an option. The ideas of "paying yourself first", hanging onto money and the security those principles would've provided can be eliminated, possibly forever, if we're not careful.
The 5%ers seem to be able to recognize the money big picture better than the others and are guided by their awareness of how money can work for and against them, if not smart. So, as they operate, they're fully conscious of this. Their understanding of what to do and things to avoid makes good decision making virtually effortless. And they subsequently develop good habits around money.
We believe that the shift for members of the 95% group begins by acknowledging that a level of pain is being endured constantly. When pain exists, concern and worry about money is almost always present, permanently residing just below the surface of daily thoughts and emotions. This suffering is rarely offset by any joy the things or entertainment bring, especially when they're paid for twice; at the register and then joined later by the additional oncoming pain.
Frankly, once gotten the hang of it, much satisfaction comes from doing intelligent things with money. But first, the focus of enjoyment must shift from a "stuff" mentality to one more aligned with financial security and well being. Realizing that security doesn't have a hidden cost like the other approach begins the creation of a new perspective within. The joy now comes from an entirely different but healthier source. Discipline and intelligence can now prevail. Financial independence and working towards it brings its own satisfaction, true feelings of enjoyment, without the pain.
Financial security and less stressful lives are gifts that most people desire. The decision to provide these gifts to ourselves is a conscious choice that each of us can make at any time. It requires a shift from one perspective to another but we're all worth it and everybody deserves them!!
Comments Off
Real Estate Investing and the Importance of Education:
Filed under: Real Estate Investment — admin September 6, 2012@ 12:47 pm
"If you think education is expensive, try ignorance."
With the exception of a couple of rare exceptions (lottery, inheritance, etc.), there's really only three main areas a person can realistically choose from to generate wealth and true financial independence for themselves:
Successfully investing in the

stock market

Operating a successful

business

Successfully investing in

real estate
But it's not nearly enough to merely select from the three and expect that results will occur according to a grand vision. Desired results can only come by creating a "successful" endeavor within any of these fields. And in each case, becoming thoroughly educated about the subject is the price that must be paid.
Warren Buffett, probably the most successful investor in businesses ever, has devoted virtually his entire life to studying and evaluating companies to determine an accurate value of their stock to (or to not) invest in or purchase outright.
Certainly operating a successful business requires the entrepreneur to become highly educated in their products in addition to the market, marketing, general business knowledge, cash flow, customer service, bookkeeping, accounting, sales, employee practices, systems and more.
And the same holds true for investing in real estate. For success to occur in real estate, as with the other examples (and everything else), a person must commit fully and dedicate themselves to be, not just educated, but to become expert. A conscious decision to acquire whatever knowledge is necessary to succeed as a real estate investor has to be the first step.
If real estate investing becomes your field of choice, commit to be the "A" student. A proper education is critical to your success. There's no shortage of information or direction. Bookstores and libraries have shelves filled with the relevant resource material. The Internet serves as a virtually endless source of information and other forms of training. Real estate investing clubs, associations and networks are plentiful.
Only about 1% of our population is considered wealthy and only 3-4% become what could be classified as financially independent. This is a pattern that's been repeated consistently for numerous generations, probably even centuries. We suspect that the primary reason for this is that people tend to dabble. They don't take the time to comprehend the effort that will be required to acquire the knowledge necessary to attain the level of success that they desire. We also believe that if people would choose to become fully dedicated and take the actions necessary for success that many more would become members of the financially free 5%.
Real estate investors account for much of the world's wealth. It can be very rewarding when the price is paid. That price is the knowledge which comes from education…
About OCG Properties: Founded by Mathew Owens and based in Redondo Beach, CA, OCG Properties delivers sound, turnkey real estate investments with positive cash flow, built in equity and in house property management
Comments Off
Trust Deed Investing In Real Estate:
Filed under: Real Estate Investment — admin August 29, 2012@ 4:00 pm
Certainly, interest rates for savings accounts will remain relatively low for the foreseeable future. CD's and bonds don't provide returns that appeal and the stock market promises to remain its usual unpredictable self. To many it seems that a good time to invest may not come along for quite a while. Money's still tight and generally not flowing with any degree of velocity and there seems to be no visible change in sight.
However…
A highly secure investment vehicle that does provide attractive yields is available and it exists within the real estate industry; namely trust deed investing.
Trust deed investing is defined simply as when a personal investor sources funds and underwrites loans directly to real estate investors. Made possible by the current economic climate and market, professional real estate investors utilize the funds to purchase properties from banks at under market value prices, renovate the properties and then either rent (buy and hold) or resell (flip) them for a profit. While trust deed investments can vary in length dependent on what the parties decide and agree to, they're traditionally kept to being short term (five years or less) loans.
Trust deed investments offer attractive yields and low risks. Investors usually earn high single-digit (~8%) annual interest returns, paid each month. In many cases, returns easily exceeding 10% over the life of the investment are returned when all factors and bonuses are included. These returns are highly favorable relative to any other investment options with similar risk levels.
Trust Deed Investment Example Here
The main mitigation of risk for trust deed investments resides within the difference between the loan amount and the true market value of the securing property itself. A well structured trust deed investment should have a loan-to-market value of 65% or better (less). If a borrower does not perform, the lender can foreclose on the property quickly and easily, sell it to recover an amount which exceeds their investment and also any interest owed (usually). The investment is so unlikely to lose money that a trust deed investor may benefit in a greater way if the borrower defaults, often hoping for such an occurrence.
The reason that banks themselves are reluctant to lend in this market is because they're still holding a great deal of bad real estate loans on their balance sheets which is a consequence of their poor home lending practices in past years. These conditions have enabled the trust deed investor to be able to command high interest rates and returns.
Trust deed investing can be accomplished in a virtually fully secured and risk free manner. The educated investor will equip him or herself with the proper knowledge, carefully review the investment by conducting a proper financial analysis and ultimately invest only with trustworthy experts.
Trust Deed Investment Example Here
Typical OCG Properties trust deed investment baseline criteria:
Investor receives an 8% interest rate for 1 – 5 years
25% of Equity for 4 year term (bonus)
50% of Equity for 5 year term (bonus)
A positive cash flow check every month!
Secured by the property at no more than 65% of the market value
The OCG Properties Mission Statement:
"It is our mission to help clients attain financial freedom by providing sound real estate investment opportunities, to support and educate our clients and at the same time improving communities worldwide…"
Comments Off
How To Create Profit When You Buy:
Filed under: Real Estate,Real Estate Investment — admin August 22, 2012@ 5:34 pm
Speculators hope for profit. Investors create it.
Though the adage, "profit is made when we buy" has been around the real estate industry for many years, it still serves as a handy reminder of the importance of proper financial evaluation when purchasing investment properties. At the beginning is the time to recognize if an opportunity to create profit exists. This is when the work of comprehending financial conditions that determines whether success (or something less) is present should be performed.
Profit, i.e., built-in equity, positive cash flow and even property value appreciation (likely, but not necessary for profit) comes as a result of knowing the right formula for success. The formula is an objective, primarily mathematical calculation which helps the investor quickly recognize if factors make for a favorable deal or represent the signal to "move on".…
Once the investor learns to accurately evaluate the potential profitability of income producing properties, the ability to identify "winning" deals quickly and early is always available. Investors are then able to rely on and repeatedly reuse the same formula.
The secret to investing in real estate is to buy intelligently and have a well conceived strategy with long term investment goals in mind. That in turn should be followed by disciplined execution. Income follows and begins to flow immediately. Buying intelligently means acquiring properties which produce enough income to cover all expenses associated with ownership in addition to a steady return on investment (passive income). The ability to accomplish this should be relatively easy to predict and recognize in the early stages. It begins with the numbers.
Here's An Example Of Our Formula
Certainly other additional elements such as location, desirability of structure, condition of the dwelling, neighborhood type, rental potential and a few other variables must be considered. Additionally the ability to overcome impatience and remove guesswork or emotion is vital as any of these factors could manufacture risk. Investors can't become enamored with particular properties that they "like" with hopes that they'll work out financially.
The successful real estate investor sets standards and sticks with them. They don't compromise their principles, become impatient or swayed by greed. They set a steady course to build wealth and stick with it. They recognize and accept that true wealth cannot be created overnight.
And successful investors know that the ability to achieve those things resides mainly within the math….
Happy investing and profit making!!
OCG Properties LLC, specializes in helping clients purchase investment properties which provide a positive monthly cash flow after all expenses are paid. We deliver secure, turnkey real estate investments with built in equity and in-house property management
Comments Off
Investing in Real Estate with IRA Funds:
Filed under: Real Estate Investment,Retirement,Self Direct IRA,Self directed IRA — admin August 15, 2012@ 4:25 pm
Investing in income producing real estate is one of the safest and most secure vehicles available these days but many people aren't aware that funds from Individual Retirement Accounts (IRA's) can now be utilized for this type investment. Considering the control a person has by actively managing their own IRA account and self directing its funds for investment in real estate themselves represents an attractive option for many. And for good reason…
Currently there are approximately 47 million households in the United States with IRA's. Though its availability as an option hasn't always been clear, increasing numbers of people are discovering its many benefits. Investors have a direct hand in strategy and decision making and can ultimately create opportunities that contribute to (often rapid and significant) growth of their retirement accounts.
As with other IRA related instruments, returns from IRA real estate investment properties are tax-deferred when in the retirement account. The account also remains subject to the same conditions and early withdrawal limitations as with a conventional IRA.
One significant difference from traditional IRA's (stocks and bonds) is that income producing real estate is an investment that generates immediate cash flow which then is directed back into the IRA account. Over time the investment funds (account balance) begin to compound and grow exponentially.
There are two types of companies which help arrange self directed IRA's:
Self-Directed IRA's With a Self-Directed Custodian
Similar to existing conventional IRA custodians, these companies assist with non-traditional investments. Self-directed IRA custodians hold your IRA funds in their accounts until you decide and direct them to make an investment on your behalf.
For example, if you decide to purchase real estate with your self-directed IRA, you will apply for the investment through the custodian. An approval process for the investment then occurs. Once approved, the custodian then issues a check directly to the seller for the purchase of the property on the investor's behalf.
Fees for self-directed custodial accounts are generally based on the value of the assets in the account (typically ~0.5 percent of the investment property purchase price). There may also be a transaction fee which usually ranges from $50 to $200.  However, there are some companies that charge an annual flat fee, no matter the account balance.
Real Estate IRA Investing Through a Self-Directed IRA/LLC
These accounts are similar to self-directed custodial accounts with a couple of differences. Companies that offer self-directed IRA/LLC services will transfer your funds to a self-directed custodial account with a preferred partner; typically with an annual-fee arrangement. They will then create a Limited Liability Company (LLC) on your behalf. The self-directed IRA/LLC will direct your retirement funds into the LLC. You can then readily access these funds yourself through the LLC bank account.
Most self-directed IRA/LLC companies will encourage you to open a checking account for the LLC, which will enable you to make investments quickly at any time. When you decide to purchase a property as an IRA investment, simply make the purchase in the name of the LLC and write a check directly to the seller from the LLC bank account.
Fees for self-directed IRA/LLC clients usually include a one-time setup fee based on the complexity of account origination (i.e., multiple parties, multiple accounts investing in the same LLC or different LLC's, etc.), plus a flat annual fee.
Buying Real Estate as an IRA Investment
Whichever type account you establish, the process to purchase a piece of real estate as an IRA investment is relatively simple once the custodian or LLC is setup. You make the purchase in the name of your IRA or in the name of the LLC and pay for the property (only) with IRA funds.
There Are Restrictions
When investing in real estate with an IRA, one must be careful to avoid prohibited transactions. There are IRS mandated provisions in place which prevent investors from gaining personal benefit from their IRA accounts before reaching the age when the government allows withdrawal of penalty-free distributions.
One type transaction contained within an IRS restriction states that investing with "disqualified parties" involved is prohibited. Disqualified parties include yourself, direct ascendants or descendents (parents and children), your spouse, spouses of your descendants, and people with fiduciary responsibilities or associations with your account (accountants, financial advisors, etc.).
In other words, buying a home with IRA account funds that you plan to reside in or would be rented to direct family members is not allowed. These exceptions are in place to ensure that IRA account funds are utilized for true investment purposes only.
Overall, it's a relatively straightforward process though professional advice is encouraged and necessary to create the account…
Become educated and personally knowledgeable. Engage with, learn from and be guided by experienced, credible professionals and you'll make great, thoughtful decisions.
Happy Investing!!
OCG Properties LLC, specializes in helping clients purchase investment properties which provide a positive monthly cash flow after all expenses are paid. We deliver secure, turnkey real estate investments with built in equity and in-house property management…
Comments Off
Older Posts »